I'm Kate
I was born in Germany and fell in love with Scotland on a camping trip when I was 8. It has always been the land of my dreams and I am grateful that I got to settle in my happy place.
Having moved to Edinburgh from Germany 7 years ago (my magic number) I am still struck by how mesmerizing this city is. There are always new things to discover behind every corner. Being an explorer at heart I know Edinburgh and its beautiful photo locations inside out.
My style of imagery is natural and down-to-earth, my photo shoots are relaxed, casual and welcoming. I'll provide you with an atmosphere that will make you feel at ease. I will help you pose, and I will capture your most beautiful self.
I know from my own experience that photo shoots with a photographer you've never met before can be a bit daunting. Don't worry – we will make plans together, I'll help you with choosing locations and outfits, and on the day of the shoot we take a walk, have a chat, maybe grab a coffee and hang out like friends. I strive to create an inclusive space for everybody – telling your photo story shall be a wonderful experience that you will treasure for a long time to come.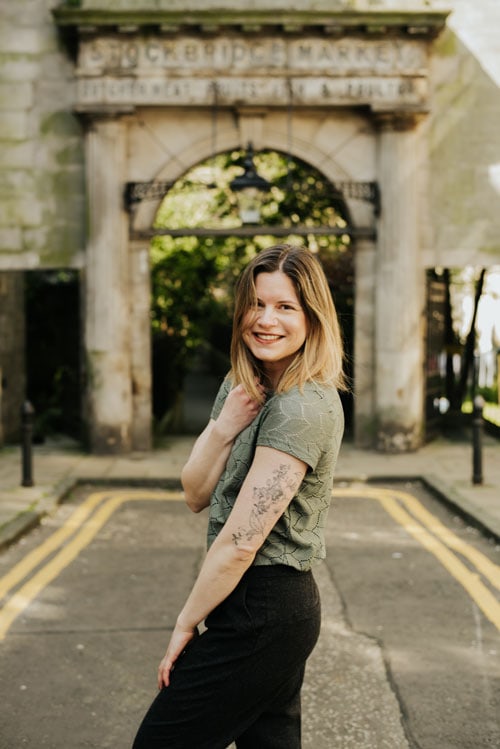 When I'm not taking photos you can find me dancing, hanging upside down, strolling along a beach or with a book by the fireplace snuggled up in my favourite onesie.
Let me capture your story and create unforgettable memories!
Have a look at my previous work to help you imagine what your photos are going to look like.
See what my clients are saying
Aciel
When Kate sent the photos, I was overwhelmed by how beautiful they were, to the extent that I had trouble deciding which ones were my favourite!
Justine
She is supremely efficient, professional and courteous and will advise you on the best way to stand and pose so that your photo comes out the best for you.
Franziska
She is skilled at what she does and has an eye for location, light and how to present you from your best side, while perfectly capturing your personality through the lens. I am absolutely pleased with the results and would recommend her to anyone.