Towards the end of last year, I got to know a lovely group of fellow female Edinburgh creatives. One cold November morning we ventured out on a day trip to St Abbs in the Scottish borders. St Abbs is a tiny fishing village on the southeastern coast of Scotland, which has become famous as the filming location "New Asgard" from the Avengers movie. I have never watched the movie, and I found St Abbs the old fashioned way; by looking at the map wondering where I could take you for a photo shoot! I love cliffs, the sea and landscapes where you don't meet a soul apart from sheep. St Abbs seemed perfect.
The drive from Edinburgh takes a little bit over an hour, but we stopped at Seacliff Beach on the way. If you have never been, you need to go. It lies just a few miles of North Berwick, is a private beach, and I'm adding it to my list of favourite places. You need to pay £3 per car to get in and drive down a tiny muddy slope that makes you regret you don't own a 4x4. We strolled along the beach, caught beautiful light and had the best views. There is a grassy rock on a tiny island you can climb and you have a wonderful view of Tantallon Castle from there. You just need to hop across a few rocks in the sea and you can scramble up. Be sure to check the tide, it was already a bit high when we went up and our way back was a bit of an adventure. I can tell you that the sea in November is very cold. I'm glad I wore a dress so I didn't have to wade through the water in my jeans!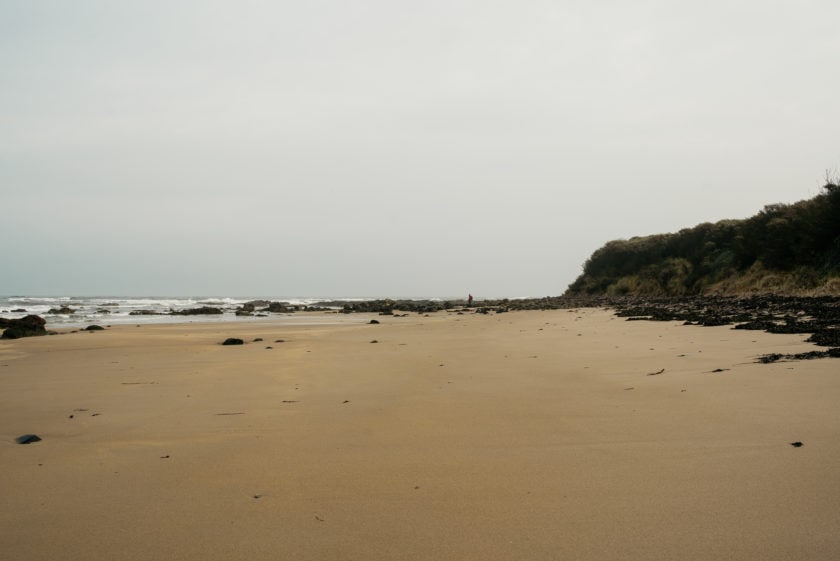 Our next stop was Ebbcarrs Cafe at St Abbs harbour, where we met our friends from Glasgow. We enjoyed a lovely cuppa before heading onward to the most beautiful scenery ever!
Apparently there is a nice walk along the coast that takes about an hour, but it was November after all and we wanted to make the most of the light, so we drove. Our destination was St Abb's Head. It deserves its own movie feature. Or maybe not because then it'll be overrun by people like us. But OH MY GOD, it is so beautiful!
There is a small lighthouse just at the edge of a cliff with a yellow roof that looks so picturesque among the lush green hilltops. I can't put into words how beautiful it is, so I'll let the pictures speak for themselves.
We wandered around and enjoyed the crisp ocean air while taking lots of photographs.
The great thing about having photographers as your friends is that you always get the chance to go home with amazing photos of yourself as well. During the day we all took photos of each other, and you can see a selection of my favourite portraits of the day below. If you'd like me to take you to Seacliff Beach or St Abbs, drop me an email. I can't wait to go again!
As a thanks for viewing all these photos, here are some of myself taken by my friend Ugne Zoe. I'm so in love with them and I'm over the moon that she captured me so well. If you would like to come on a day trip to Seacliff Beach and St. Abbs with me, inquire for my free dates at kate@katehaag.uk, I look forward to hearing from you!